[EVENT] Atlantica Online Voting - MMOSite!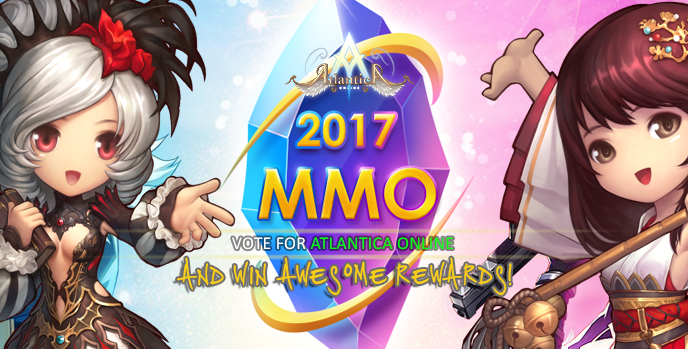 Greetings Atlantians!

Atlantica Online has been nominated for the 2017 MMO Reader's Choice awards at @MMOsite
The 2017 MMOsite Readers' Choice Awards Event is a worldwide event that involves the entire online gaming population.

VOTE HERE: [http://event.mmosite.com/gameprize/]
Please remember to vote once every 24 hours and for each category!
There are numerous categories being contested. Atlantica Online falls in these 3 categories: Favorite MMORPG, Most Classic, Best Innovation.
The event is divided into 2 rounds. The first round is held on Dec.1st-Dec.20th, and the next will be held on Dec.21st- Jan.4th.
And of course, we would not let you guys go empty handed after supporting Atlantica Online!

Prizes will be given on to all players once we have won a spot on any of the categories!
However, winning more categories means better prizes!
Here are the rewards for this event!
Prize A

Merc. Room License [No Trade/Perm] x 3

Platinum License Pack (1 Day) x 2

Character level Up Ticket (Mercenary Only) x 5

Guan Yu Search License(No Trade/1 day) x 5
Prize B

Legendary Weapon Box x 1

Ancient Skill Book(1 billion) x 3

Platinum License Pack (1 Day) x 10

Neo-ACA Search Robot License(No Trade/7 days) x 1
Prize C

Unltimate Collector's Chest x 1

Mysterious Jupiter Weapon Box x 1

Ancient Skill Book(1 billion) x 5

Platinum License Pack (30 Days) x 1
Win 1 Category: Prize A

Win 2 Categories: Prize A+B

Win 3 Catagories: Prize A+B+C
Our fate lies in your hands, fated Atlantian! Let's dominate the competition!

Atlantica Operations Team