(COMPLETE) VALOFE and UniPin Bonus Code Event!



Greetings, Atlantians!

In partnership of Valofe and UniPin, we are happy to announce that starting on May 9, 2017 until May 16, 2017 UniPin will share some Bonus Codes to players for FREE!!

Bonus codes are used to get additional UC or UniPin Credits when doing a transaction with UniPin. The additional credits will depend on your top up transaction and have a chance to increase up to 100%.

In order to obtain the bonus codes, please follow these easy steps.

Procedures:

1. Follow their Instagram account : @unipinindonesia

2. Subscribe to their YouTube channel : https://www.youtube.com/channel/UC5PBJX2egvPFojf_ihUDu7Q

3. Follow them in Line : @unipin

4. Like their Facebook page: https://www.facebook.com/VoucherUniPin/

5. Wait for UniPin to share the Bonus Codes.
Schedule:The table above is where and when UniPin will share the Bonus Codes.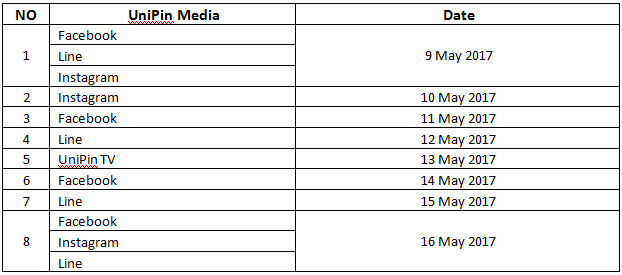 Terms and Condition:

1. Buy 818 Gcoins using UC in any VALOFE games.

2. Input the code you got in UniPin social media in the "Bonus Code" provided.
So what are you waiting for? Join now!