Patch Notes - June 23, 2021
Greetings Atlantians!

Welcome to another patch content breakdown for version 461520! We would like to congratulate and salute of the brave warriors who participated in the campaign against the Otherworldly Beasts. It is the best time to celebrate our victory and independence but unfortunately various lawbreakers, outlaws, and criminals have shown themselves. It is time to fight for our independence and bring justice upon our enemies.

Summer is here and are you looking for new goodies? We've got several new arrivals including a special one designed by [GM Katsy]!

Summer's not your interest right now? We got a new exotic and luxurious outfit hailing from a distant foreign land. There are floating rumors of an Atlantian possessing a genie in the lamp while traveling on a flying magical carpet roaming around the Arabian Nights.

Two Legendary Wolves have descended upon the world of Atlantica. Remus and Romulus are looking for worthy allies who can aid them in their cause. No such soul knows what their motivations are nor their agenda but they are willing to equally giving their blessing to those who are worthy.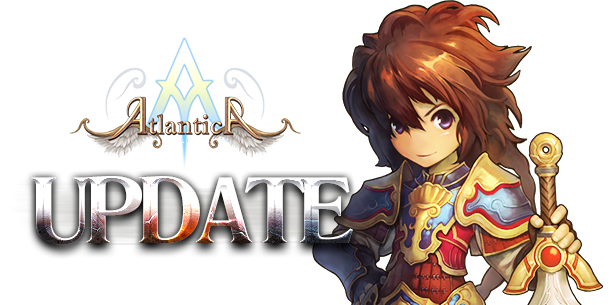 - Server Refresh

- New Boxes

: Feathered Floaties Random Box V2

: Katsy's Summer Box

: Legendary Wolf Selection Box

: Arabian Outfit Random Box

: Arabian Acong Decoration Box

: Cool Marine Random Box

- New Jackpot Package

: Legendary Wolf Mount Jackpot Package

: Legendary Wolf Mount Jackpot Box

- New Mount Card

: Legendary Wolf Mount Card

: Arabian Carpet Mount Card

: Dolphin Tube Mount Card

- New Mount w/ Magic Skill

: Legendary Wolf Mount - Remus and Romulus

: Magic Carpet Mount

: Mystical Magic Carpet Mount

- New Costume Set:

: Arabian Outfit Set

: Mysterious Arabian Outfit Set

- New Decoration w/ Magic Skill:

: Acong of the Lamp

: Mystical Acong Djinn



- End of Mouth of the Abyss

: Disabled Event Monsters

: Disabled Quest NPCs

: Shop NPC Stays until next update

"Thanks to everyone's combined effort, we were able to completely thwart the advances of the Otherworldly Beasts but unfortunately, another has arisen from the distant horizon."

- Start of Freedom Park

: Enabled Quest

: Enabled Shop NPC

: New Rewards

: New Hourly Giveaway

-> 1st Hour: Freedom Park Ticket (1 Hour/ No Trade) 1x

-> 2nd Hour: GM Event Token 5x

-> 3rd Hour: Freedom Flyer 20x

-> 4th Hour: Freedom Flyer 25x

"Lawbreakers, Outlaws and Criminals have recently surfaced and are interrupting the celebration of our independence and recent victory against the Otherworldly Beasts. Freedom Park would be opened once again to act as the first line of defense against such graceless enemies. Those who will participate will be rewarded accordingly."

- Pre-load July Monthly Exploration Rewards

- AO Day Setting (June 26 to June 27)

- Shop Update(Dragon's Lair Acong)

: Dragon's Sacred Treasure

: Dragon's Lustrous Treasure



- Feathered Floaties Random Box V2

: Contains revised content

"Another chance to get these awesome swan and flamingo summer floaties! Don't miss out on this chance!"

- Katsy's Summer Box

: Contains various Summer related items and 2X Bonus on every 10th Box

"GM Katsy's special summer box! Get a bonus on every 10th roll! Perfect for those who need to gear up for this summer!"

- Legendary Wolf Mount Card

: Contains Legendary Wolf Selection Box

"Legendary Wolves Remus and Romulus has descended upon our world looking for allies. Those who are deemed worthy will be granted their matchless powers."

- Legendary Wolf Mount Jackpot Package

: New Jackpot Package that contains 10x Legendary Wolf Mount Card and 2x Legendary Wolf Mount Jackpot Box

- Arabian Outfit Random Box

: Contains Mysterious Arabian Outfit set

"Made from the most luxurious and exotic materials from around the world. The silky fine and woven fabric of this clothes are not only a sign of status but also of power."

- Arabaian Carpet Mount Card

: Contains Mystical Magic Carpet

"A textile floor covering that was given sentience and ability to fly with the magic of a benevolent Djinn. It yearns for a master who is kind and generous and would refuse to provide its service to those whose intention are of malice"

- Arabian Acong Decoration Box

: Contains Mystical Djinn Decoration

"An Acong Djinn who is trapped inside the lamp. It offers wishes for those who possess the lamp but be careful for what you wish for."

- Cool Marine Random Box

: Contains Cool Marine Outfit Set and Lifeguard Outfit Set

"The perfect outfit to get your summer hype started! Be on the watch as a Lifeguard to prevent and as well save those who might possibly drown this summer "

- Dolphin Tube Mount Card

: Contains Dolphin Tube Selection Box

"The colorful Dolphins of Atlantica have returned and will aid those whose intentions are for the good of this world"

- HotFireLava Staff, IceColdSnow Staff

: Weapon skill adjustment

- Panda Bamboo, Cat Model Fishing Rod

: Decoration skill adjustment