Patch Notes - October 14, 2021
[English]

Greetings Atlantians!

Welcome to another patch content breakdown for version 461600!

The Oktoberfest festivities continues and it seems like Merchant Acong has a new title in stored!

On another news, certain merchants have stocked gear boxes to help aid Atlantians especially in these trying times. This and more on today's patch notes!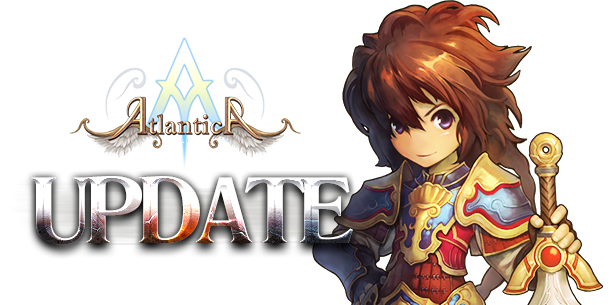 - Server Refresh

- Oktoberfest Event Extension

: Extended until October 28

: New Title Reward: Cracking A Cold One

"Title awarded to Atlantians who guzzled down during this year's Oktoberfest. Sometimes you just need to call in some friends over and Crack A Cold One with the lads and ladies."

- Shop Update

: Proctor – Now sells Dragon God's Weapon and Armor Selection Boxes

: Dragon Merchant – Now sells Evil Weapon and Armor Selection Boxes

: Merchant Mercurius – Now sells Dark Pegasus Weapon and Armor Selection Boxes

: Battlefield K.D – Now sells Judgement Weapon and Armor Selection Boxes

"Mentioned merchants now trade certain gear boxes each with their own specific exchange rates. Check out the stores for more info of the exchange rates."



[Spanish]

¡Saludos Atlántianos!

¡Bienvenido a otro desglose del contenido del parche para la versión 461600!

¡Las festividades del Oktoberfest continúan y parece que el Mercader Acong tiene un nuevo título almacenado!

En otra noticia, ciertos comerciantes han almacenado cajas de intercambio para ayudar a los atlántianos, especialmente en estos tiempos difíciles. ¡Esto y más en las notas del parche de hoy!

Consulte los detalles a continuación:

Detalles de la actualización

- Actualización del servidor

Evento

- Extensión del evento Oktoberfest

: Extendido hasta el 28 de octubre

: Nuevo título: Abriendo una fría

"Título otorgado a los atlántianos que se bebieron durante el Oktoberfest de este año. A veces solo necesitas llamar a algunos amigos y abrir una fría con los chicos y las chicas ".

- Actualización de la tienda & NPC

: Proctor: Ahora intercambia cajas de selección de armas y armaduras del Dios Dragón.

: Comerciante Dragon: Ahora intercambia cajas de selección de armas y armaduras malignas

: Mercader Mercurius: Ahora intercambia cajas de selección de armas y armaduras del Pegaso oscuro

: Battlefield K.D: Ahora intercambia cajas de selección de armaduras y armas del juicio.

"Los comerciantes mencionados ahora intercambian ciertas cajas, cada una con sus propios tipos de cambio específicos. Consulte las tiendas / NPC para obtener mayor información sobre los tipos de cambio "



[Chinese]

亚特兰蒂斯人们, 你们好!

欢迎使用版本 461600 的另一个补丁内容详解!

十月节的庆祝活动还在继续,似乎商人阿贡有了新的称号!

另一则消息,某些商人已经储备了装备箱来帮助亚特兰蒂斯人,尤其是在这些艰难时期。 今天的补丁说明中还会有更多内容!

请参考以下详情:

更新详情

- 服务器刷新

活动

- 十月节活动延长

:延长至 10 月 28 日

:新称号奖励:破冰

"为在今年十月节期间大口喝水的亚特兰蒂斯人所授予的称号。 有时您只需要召集一些朋友过来, 小伙子和女士们一起破冰吧。"

- 商店更新

:监事 – 现在出售龙之神武器和护甲选择箱

:龙商人 – 现在出售邪恶武器和护甲选择箱

:商人墨丘利 – 现在出售黑暗飞马武器和护甲选择箱

:战场K.D – 现在出售判断武器和护甲选择箱

"有商人现以各自定的汇率交易某些装备箱。 查看商店以获取有关汇率的更多信息。"



[Portuguese]

Saudações Atlantes!

Bem-vindo a outra análise do conteúdo do patch para a versão 461600!

As festividades da Oktoberfest continuam e parece que Mercador Acong tem um novo título armazenado!

Em outra notícia, alguns comerciantes estocaram caixas de conjuntos para ajudar os Atlantes, especialmente nestes tempos difíceis. Isso e muito mais nas notas de atualização de hoje!

Por favor, consulte os detalhes abaixo:

Detalhes de Atualização

- Atualização do Servidor

Evento

- Prorrogação do Evento da Oktoberfest

: Prorrogado até 28 de Outubro

: Prêmio de Novo Título: Abrir uma cerveja!

"Título concedido aos Atlantes que beberam durante a Oktoberfest deste ano. Às vezes, você só precisa ligar para alguns amigos e abrir uma cerveja com os rapazes e garotas."

- Atualização da Loja

: Proctor - Agora vende Caixas de Seleção de Armas e Armaduras do Deus Dragão

: Mercador Dragon - Agora vende Caixas de Seleção de Armas e Armaduras do Mal

: Mercador Mercurius – Agora vende Caixas de Seleção de Arma e Armadura Pegasus Negras

: Campo de Batalha K.D - Agora vende Caixas de Seleção de Armas e Armaduras de Julgamento

"Os comerciantes mencionados agora negociam certas caixas de conjuntos, cada uma com suas próprias taxas de câmbio específicas. Confira as lojas para mais informações sobre as taxas de câmbio."