Patch Notes - December 23, 2021
[English]

Greetings Atlantians!

Welcome to another patch content breakdown for 461650! The Holiday Events keep on coming as the defense on Holy Town rages on.

There has also been some word going on that a certain Jolly Old Fellow's home has opened their doors welcoming Atlantians this Christmas! But alas, it has also become vulnerable to the raiders of Holy Town.

The defense of Christmas continues, but now we take the fight to Santa Villa!

On other news, a special bonus buff to celebrate another year together and more Christmas packages are headed your way!

This and more here on today's patch content breakdown!

Please refer to the details below: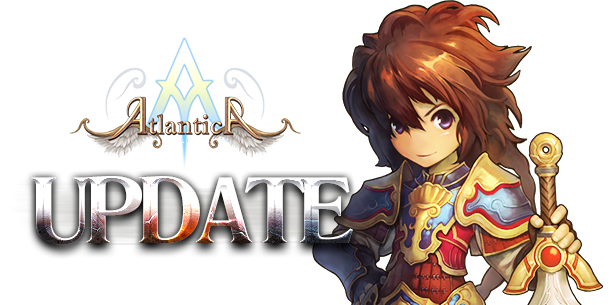 - Server Refresh

- New Skin

: Christine: Cutie Rudolph

"Even the Sheriff knows how to rock a Christmas Costume and it's in a cozy Reindeer Costume?!

New skin, Cutie Rudolph, now available on the events shop!"

- End of Thanksgiving

: Merchant Acong Thanksgiving Shop removed

"Merchant Acong has finally closed his Thanksgiving Shop to give time to celebrate the Holidays!

Interacting now with Merchant Acong (Rome) will display an "All Items Have Been Sold Out" message instead of a normal chat window."

- Return of Santa Villa

: Return of Santa Vila Dungeon

"Santa Villa makes a lite return welcoming any jolly good Atlantian to enter! However, Holy Town's raiders have marched towards the humble Villa in the hopes to steal any Christmas goodies they can find!

Head on over to Santa Villa and defeat the wily raiders! New rewards await!"

Note: 2 different Event Dungeon Tickets do not stack. Once Event Ticket A is used, you cannot use Event Ticket B unless the duration is finished.

- Yong Yong's Special Christmas Exchange

: Christmas Card Exchange Shop Returns

"Yong Yong's Christmas Exchange makes a return, bearing a hefty haul of gifts this Christmas! Still wondering to this day where he gets these special treasures…

Head on over to Rome and look for Yong Yong's Event Shop!"

- Year End Blessing 2021

: Preload AO Day Settings (Dec. 24 to January 7)

"As part of the Year End Blessing 2021, Atlantians will be able to take advantage of server buffs starting from Dec. 24 up until the first week of the year!

More details will be shared soon."

- Regal Holiday Box

"Obtain the cozy Regal Holiday Suit and other special goodies and strut your style this Wintry Holiday season!"

- Snowflake Ride Box

"The ever sparkling Crystalline Snowflake Mount can now be obtained along with other goodies! Celebrate the Winter Season by traversing the lands on your very own Snowflake!"

- Portable XMAS Tree Box

"Bring the joy of giving wherever you go! Obtain your very own portable XMAS Tree and be a literal walking Christmas!"

- Venetian Gondola Box

"You can now obtain the VIP's Gondola and traverse the beautiful canals of Venice! Have a romantic trip with your very own Gondola and embrace the power of its waters."

- Venetian Costume Random Box

"VIP looks for the star in you! Obtain the VIP Style Costume set and walk the red carpet, glimmering with awe and style!"

- Blooming Flower Basket

"Special flowers for you, a loved one or for you both! Obtain the Bouquet Decoration and harness the power of flora!"

: Fixed an issue where Crafting Cap of Lv. 180 didn't activate on TITAN Server

: Fixed an issue where Certain Christmas Event Items could not be registered in the collection book



[Spanish]

¡Saludos Atlantianos!

¡Bienvenido a otro desglose del contenido del parche 461650!

Los eventos festivos continúan llegando mientras la defensa de la Ciudad Santa continúa. ¡También se ha mencionado que la casa de un Alegre Viejo Compañero ha abierto sus puertas para darle la bienvenida a los Atlantianos esta Navidad! Pero, por desgracia, también se ha vuelto más vulnerable a los asaltantes de la Ciudad Santa.

La defensa de la Navidad continúa, ¡pero ahora llevamos la lucha a Villa Santa!

En otras noticias, ¡un beneficio adicional especial para celebrar otro año juntos y más paquetes navideños están en camino!

¡Esto y más aquí en el desglose del contenido del parche de hoy!

Consulte los detalles a continuación:



Detalles de actualización

- Actualización del servidor

- Nuevo aspecto

: Christine: Adorable Rudolph

"¿Incluso la Sheriff sabe cómo lucir un disfraz de Navidad y está, un acogedor disfraz de reno?"

¡Nuevo aspecto, Adorable Rudolph, ¡ahora disponible en la tienda de eventos! "



Eventos

- Fin de Acción de Gracias

: Se ha eliminado la tienda de Acción de Gracias del comerciante Acong

"¡El comerciante Acong finalmente cerró su tienda de Acción de Gracias para dar tiempo a celebrar las fiestas!
Interactuar ahora con Acong Mercader (Roma) mostrará un mensaje de "Todos los ítems se han agotado" en lugar de una ventana de chat normal ".

- Regreso de Villa Santa

: Regreso de la Mazmorra de Villa Santa

"¡Villa Santa hace un regreso ligero y le da la bienvenida a cualquier atlantiano! Sin embargo, los asaltantes de la Ciudad Santa han marchado hacia la humilde Villa con la esperanza de robar cualquier regalo navideño que puedan encontrar.

¡Dirígete a la Villa Santa y derrota a los astutos asaltantes! ¡Te esperan nuevas recompensas! "

"Nota: 2 tickets de mazmorras de evento diferentes no se acumulan. Una vez que se usa el boleto de evento A, no puede usar el boleto de evento B a menos que la duración haya finalizado ".

- Intercambio especial de Navidad de Yong Yong

: Devolución de la tienda de intercambio de tarjetas de Navidad

"¡El intercambio navideño de Yong Yong regresa con una gran cantidad de regalos esta Navidad! Todavía me pregunto hasta el día de hoy de dónde saca estos tesoros tan especiales ...

¡Dirígete a Roma y busca la tienda de eventos de Yong Yong! "

- Bendición de fin de año 2021

: Precarga de la configuración del día de AO (24 de diciembre al 7 de enero)

"¡Como parte de la Bendición de fin de año 2021, los atlánticos podrán aprovechar las ventajas del servidor a partir del 24 de diciembre hasta la primera semana del año!

Pronto se compartirán más detalles ".

Tienda de ítems

- Caja de vacaciones real

"¡Obtenga el acogedor traje de vacaciones real y otras golosinas especiales y luce su estilo en esta temporada de vacaciones invernales!"

- Caja de paseo en el Copo de Nieve

"¡La siempre reluciente Montura del Copo de Nieve Cristalina ahora se puede obtener junto con otras golosinas! ¡Celebre la temporada de invierno atravesando las tierras en tu propio copo de nieve! "

- Caja de árbol de Navidad Portátil

"¡Traiga la alegría de dar a donde quiera que vaya! ¡Obtenga su propio árbol de Navidad portátil y sea una Navidad literalmente andante! "

- Caja de Góndola Veneciana

"¡Ahora puede obtener la Góndola VIP y atravesar los hermosos canales de Venecia! Tenga un viaje romántico con su propia góndola y abrace el poder de sus aguas ".

- Caja aleatoria de Trajes Venecianos

"¡VIP busca la estrella en ti! Obtén el conjunto de vestuario estilo VIP y camina por la alfombra roja, ¡brillando con asombro y estilo! "

- Cesta de Flores Florecientes

"¡Flores especiales para ti, un ser querido o para los dos! ¡Obtén la decoración del ramo y aprovecha el poder de la flora! "



Arreglos

: Se solucionó un problema por el cual el límite de habilidades de niv.180 no se activó en el servidor TITAN

: Se solucionó un problema por el cual ciertos ítems de eventos navideños no se podían registrar en el libro de colección.