Patch Notes – November 10, 2022
Greetings Atlantians!

Welcome to another patch content breakdown for 461860! Today's update is going to be pretty chilly as we head on over to the dreaded wintry lands of the north! More challenges await the common Atlantian in the lands of Antark!

But as we head into the chilliest seasons, we are also given the opportunity to be grateful to plenty of blessings as we celebrate Thanksgiving!

This and more here on today's patch breakdown!

Please refer to the details below: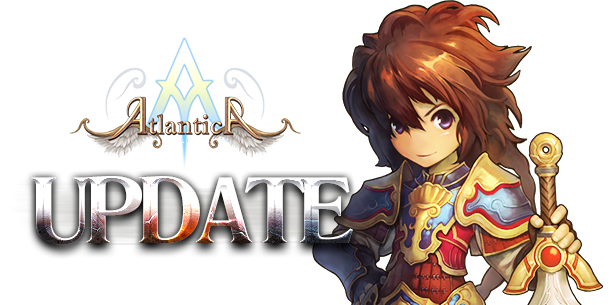 - Server Refresh
---
- New Dungeon

: [NEW] Sloth's Abyss

: [NEW] Frozen Abyss
---
- New Weapons

: [NEW] Sloth's Weapon Set
---
- New Quests

: [NEW] Facilitator Gigas – Sloth's Weekly Quest

: [NEW] Aaron Reisnr – Frozen Abyss Weekly Quest
---
"Researchers have traversed the deepest parts of Antark and have discovered two new entrances, both of which only leads to impending danger. A commission has been handed out to all Atlantians to travel in to both dungeons and deal with any horrifying monster blocking their path.

Many of those who've ventured the icy land said to have found valuable treasure in which it bestows the wielder new power, however, at a price of a deadly sin.

But, are these mere rumors or are these facts? Speak to Facilitator Gigas and Aaron Reisnr within Antark Outpost to get started on the expedition."
---
- Costume Sets

: [NEW] Night Infiltrator Set

: [NEW] Cobalt Night Infiltrator Set
---
- Decoration

: [NEW] Hologram

: [NEW] ACA Hologram
---
- Mount

: [NEW] Cyber Leopard

: [NEW] ACA Cyber Leopard V2
---
- Collection Book

: [NEW] Code-0 Collection Set

- Boxes

: [NEW] Code-0 Outfit / Mount / Decoration Boxes
---
"Code-0, a name of a group of agents busting down opposing gangs in the cyber realm! Clad in blue and black while riding atop their fully augmented Cyber Leopards, they hunt down their foes at the dead of night, and taking them out without a trace!"
---
-New Feature

: [NEW] Collection Book - Preview Rotation
---
"You can now rotate item previews in your collection book for the following categories:

Mount, Decoration and Clothes. You can rotate using arrow keys located at the bottom of the [Preview] section."

- Start of Thanksgiving Event 2022

: [NEW] Intense! Training Camp

: [NEW] Intense! Bingo Event – obtain bingo tokens, complete missions, get event limited rewards!

: Returning Thanksgiving Fishing Event 2022 – obtain turkey bait and fish out more event limited rewards!
---
"Thanksgiving is here! To celebrate, a nice quick workout in Chang An's all new 'Intense! Training Camp'! Obtain loads of experience from the training camp and get lucky in this year's Intense! Bingo Event courtesy of Intense! Training Camp Facilitator: Goddess Lea!

She has returned to celebrate thanksgiving after the grand assault at the Beast's Banquet Hall! Head over to Rome Plaza, meet up with Goddess Lea and obtain a bingo token to get started!"



- [NEW] Code-0 Outfit Box

- [NEW] Code-0 Decoration Box

- [NEW] Code-0 Mount Box
---
"Obtain the Code-0 Infiltrator's Set along with some essential gear and other items!"
---