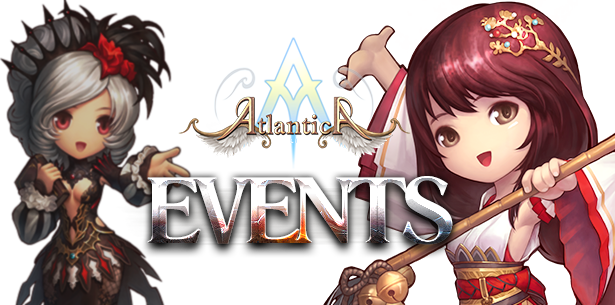 As we enter the year of 2018, Atlantica has prepared something special!

Get ready for a triple treat because Atlantica Day will be celebrated for 3 days!
Atlantica Day Events



1. Resting EXP. Boost 300% up

2. Diary EXP. Boost 300% up

3. Winner Gift Box Event

4. Jackpot Hourly Raffle (AT Day Jackpot Gift)

5. Party EXP Multiplier x2 and x3

6. EXP Bonus Time 300%

7. Crafting EXP 200%

8. Battle Buffs (Attack Power and Def +20%)

9. Buff Items Giveaway

10. AT Day Sale (Mercenary, Legion, Books and Atlas Ores)



A chance of getting the [Atlantica VALOFE Day Jackpot Gift] from Coliseum/Free League Battles (Given at random to the participants of every league after achieving at least 1 victory)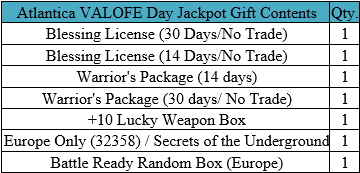 Get the [Atlantica Day Jackpot Gift] from the following instances:


Hourly Raffle (Distributed randomly to online users every 2 hours)


Auction (Gift box will be registered in auction every 3 hours)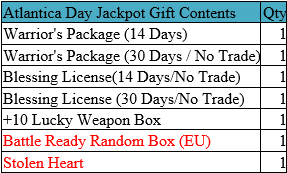 Aside from the Gift Boxes, you can get the [Atlantica Day Coupon] for every hour that you are online. The number of coupons will increase per hour and everyone can earn up to 6 coupons and a Honey Jar Key! These coupons can be exchanged for weapons to the Atlantacong NPCs located in Rome!



Atlantica Day Item Giveaway (Saturday Dec 30th):
Atlantica Day Item Giveaway (Sunday Dec 31st):
Atlantica Day Item Giveaway (Monday Jan 1st):
The following items are on sale for the whole weekends! Check it out!
1. Steampunk Autogyro Card 7+3

2. Twilight Wind Random Box

3. Tania Gold Package

4. Incanation of Archangel Card 7+3

5. Atlas Ores x500 + 75 / x1000 + 150

6. Atlas Ores [E] x500 + 75 / x1000 + 150

7. Archangel Wings Decoration Box 7+3

8. Arcangel Outfit Box 5+1

9. Ancient Minotaur Card 5+2

10. Ancient Minotaur Outfit Box 5+1

11. Ancient Minotaur Wings Box 7+3

12. Phoenix Card 5+2

13. Firebird Box 5+2

14. Inferno Box 5+1



End 2017 with us and together we will welcome 2018! See you guys on December 30th to January 1st!
Atlantica Operations Team