[EVENT] HAINAN FIREWORKS EVENT
Hainan Fireworks Festival!









Good day, Atlantians!
The summer heat's just started and the night sky is shining with wonderful fireworks! Head to Hainan Island and be mesmerized with its' ocular delight!

Festival Captain Ruka and Mr. Klutz are waiting to give you explosive goodies and a quest that you will never forget!


Event date: July 5th to July 26th
Festival Captain Ruka

Log in to receive Ruka's Invitation, this item will automatically appear in your inventory


Travel to Hainan Island and speak to Festival Captain Ruka, she will ask for her invitation




Completing the quest will reward you with Fireworks Bait (Event)







You can buy more bait from Mr. Klutz, he can be found standing next to Ruka




Fireworks Bait will allow you to fish up Festival Firecracker (Event)







Fireworks Bait has a rare chance to fish up Fireworks Marble (Event)


Fireworks Marbles can also be obtained after successfully persuading special event Acongs (Read Sullen Sully quest below)


Festival Firecrackers and Fireworks Marbles can be traded in to Mr. Klutz for festive rewards!


Festival Captain Ruka will ask you to speak to Sullen Sully once you've completed her quest


By using the Fireworks Bait you can get the following items




Fireworks Game My Home Decoration


Burnt Fireworks Hair Decoration


Firecracker (Event)


Fireworks Marble (Event)


Fireworks Kit (Event)


Scroll of Resurrection (Event)


Phoenix Scroll (Event)


Scroll of Life's Blessing (Event)


Growth Vial (Event)


Book of Experience[Adv](Merc. Only)


Ancient Book of Experience (Merc. Only/Event)


Ancient Skill Book (Merc. Only/Event)


Ancient Book of Knowledge(Merc. Only/Event)


Ancient Book of Growth (Event/Merc. Only)







Sullen Sully


Visit Sullen Sully in Hainan Island


Sullen Sully is lonely, and wants to enjoy the Fireworks Festival with a friend


Find Traveling Acong, Free Spirit Acong, and Wayfaring Acong. These special event Acongs can be found traveling the world


Persuade the special event Acongs to join Sullen Sully




To persuade the Acongs, you must give them Festival Firecrackers


If you fail to persuade an Acong, he will send you on a special mission to gain his trust again







If you successfully persuade an Acong, they will go to Sullen Sully and reward you with 10 Fireworks Marbles!




Acongs can be persuaded once per day







Summer Fever Random Box

Randomly contains of the following items when opened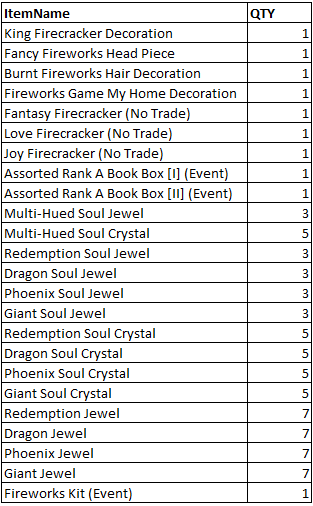 Get those fireworks flying! Have fun Atlantians!



NOTE: The following items will be removed after the event:




Firecracker (Event)


Fireworks Bait (Event)


Fireworks Marble (Event)


Ruka's Invitation (Event)


Sully's Teardrops (Event)


Party Crasher's Apology Letter (Event)


Raggedy Invitation (Event)


[Event] Summer Fever Random Box


Fireworks Kit (Event)